Been on an online shopping spree recently, and ended up buying too many clothes, some of which I would never wear.
Am selling them off now to clear space in the wardrobe.
All Brand New - Never worn before. Never washed before too.
Quoted from LOEF itself :-

Peony Blossoms - BLACK
Bought at : $25
Selling : $10
Also available in Black
Made in luxe satin silk with a gorgeous palette of peonies, this kimono top is one of our absolute must-haves of this collection. Perfect for our tropical weather.
Description:
Self-tie ribbon at back
Elasticised at waist
Does not come with inner tube
Made from satin silk and chiffon
Measurements:
Pit-to-pit: 12.5″- 19″
From shoulder down: 27″
Fits UK 6 – small 12
Kimono Top II in TEAL
Bought at : $25
Selling : $10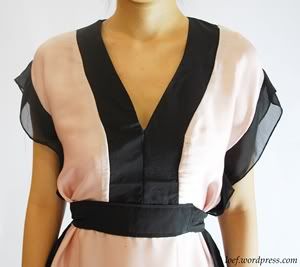 Also available in Teal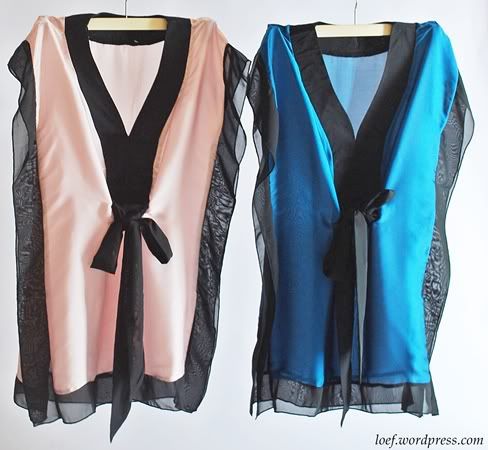 Our kimono top was so popular we've brought it back with a longer cut and a sash to accentuate your figure!
Description:
Self-tie sash
Comes with inner tube (model is wearing it without inner tube)
Made from silk and chiffon
Measurements:
Pit-to-pit: 18″
From shoulder down: 29.5″
Fits UK 6 – 10
Vicky in BLACK
Bought at : $24
Selling : $10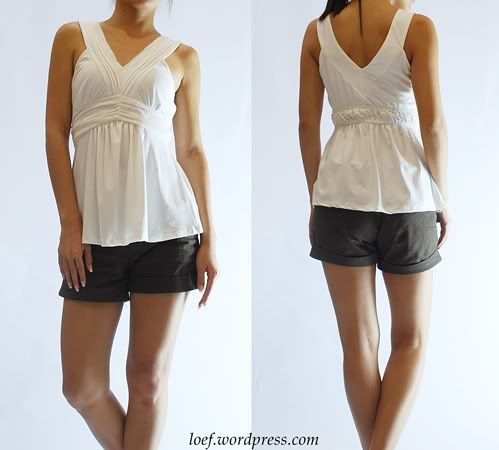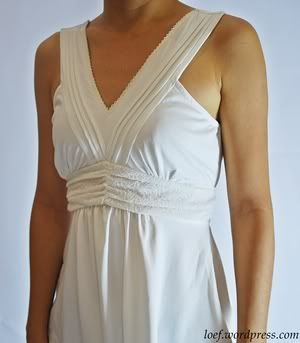 Also available in Black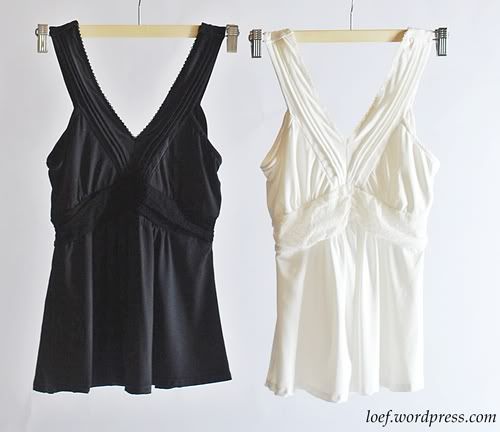 Featuring a V-neck with a pleated bodice topped up with a bit of lace at the underbust, this top is so versatile it goes well with anything you can think of. Capris, jeans, shorts or an A-line skirt. This top will be one of the staples you'll wear again and again. Get it in both colours!
Description:
Lace at underbust
Slightly smocked at back
Made from rayon jersey
Measurements:
Pit-to-pit: 14″-20″
From shoulder down: 25″
Fits UK 6 – 1


Selling price stated is inclusive of postage (normal mail). self-collection can be arranged. Please kindly drop me an email at s0800002@singnet.com.sg for interested parties.
Once again, clothes are all brand-new. (not even tried on before)
Thanks for looking.
Cheers
Christina
Hi Babes


This educator was talking about the teaching profession and what it entails. I could totally comprehend where she was coming from and her wish for all teachers. One thing though, I couldn't fathom was that she mentioned that Singapore teachers are paid relatively well. Eh, something that made me wince and whine.

This I beg to differ. My peers are definitely getting much more than what I'm drawing. Yes, of course, I'm drawing a decent salary. But comparatively, I have peers who are earning twice as much as I am, just because they are in the private sector. I work as hard as them, if not harder. Oh well, that's taking into account my marking over the weekend, administrative duties etc. And if you entertain clients after work, I too, entertain my students after curriculum hours.

The hubz often teases me about my meagre pay. It's really a pay I can hardly get by now that I have a family to think of. And for your information, I am still working during my confinement period!

But the hubz know that I'm proud of my profession. I'm proud to be a teacher. Nevermind about the pay, of course, I wouldn't mind a better pay though.

Teachers' Day was definitely a day where I received my due recognition. For one, I didn't receive any gifts at all. Not a single card too. I was confined at home on the day itself. But it's the little messages I received that gave me goosebumps all over, at times almost close to tears.

One particular message went:
A very happy teacher day to you andy here i am very lucky to have a teacher like you even some time you scold me i do still respect you in this 10 years of mine studying you are the most respectable teacher in my view as i heard u are not in school so i cant visit you heard you are going to give birth soon do rest well lastly happy teacher days

This was how the exact message went. No punctuation, with lots of grammatical errors. But above all these, it's a message I hold dear to my heart. I was so touched that I teared upon receiving the message. He was an ex-student who was very rude and defiant to all teachers. When he first heard I was pregnant, he sent me his well-wishes. I happened to teach his sister this year too, and I heard from her that he's told her to respect me and to learn from me becaues I am a good teacher. *blush*

I guess that this is what teaching is all about - touching lives. Showing them that you care. And I guess that I have made a difference this this bunch of kids, kids whom others have given up on, but I persevered to show them that I truly care. I didn't do much, but stood by them when they needed support.

Heard from my colleagues that my form class made a video tribute for me, which was played in the whole school. Too bad, I have not had the chance to see it yet. After which, the class msged me to tell me that I've won the Caring Teacher Award.

Honestly, the award is but just a bonus. What matters to me is the heartfelt thoughts of these kids. Their well wishes and their appreciation of me.

Suddenly, I feel as if the meagre pay is all so worth it. Because this is a kind of satisfaction I will never get from another profession. The kind that will make you smile in fondness and makes you feel proud to tell others that you are a TEACHER!

I miss my students so much!!

Eh, I think I am prouder to be a teacher than to be a mother. Oopsie!
Just the other day, I read an article about the teaching profession with much anticipation. The headline was definitely eye-catching, at least to me, because it went something like "pay teachers more" or somewhere along this line...


And as the due date draws nearer, I can't help but feel butterflies in my stomach. Yes, butterflies literally because the little one has been moving around alot. More than ever.

Back at work, I am still the usual self, sometimes almost forgetting that I'm pregnant. Always running about, standing up while teaching... But at times the little one will give me a few jabs to remind me that she's inside me.

Almost everything is ready now to await the little one's arrival. Perhaps the only thing that isn't ready yet is... myself.

OH gosh, I am still a child at heart, how am I going to mother a child?

But I can't wait to hold her in my hands, and to whisper her name into her ears.

Most importantly, I can't wait to be not pregnant. My colleague also mentioned that she's waiting for me to give birth so that I can go wakeboarding with her.

4 more weeks! Or perhaps even earlier. Mummy said I popped two weeks before the due date. That made me all jittery.

The past few days haven't been good though. Swollen feet and hands. Coupled with sharp pains in the stomach.

That's why I salute all mummies!

Crossing my finger that the hubz will be by my side when I am in labour and throughout the stay in hospital. I definitely need the support.
As I type now, the little one is 36 weeks old in my stomach.


I think a big part of my life goes to waiting...

When I was much younger, and when dad walked out on the family, I waited. I cried and I waited, hoping that he would return one day.
Mum soon busied herself with work and came home late. I also waited by the window for her everyday, just to catch the first glimpse of her. While waiting, I cried too. I cried because I was scared that she would leave me like what my dad did.

I hate waiting - it is, to me, an agony. It reminds me of the hateful past.

I waited for the day dad would change. I waited for the day he would do his part as a dad. I have been waiting for nearly 20 years, but to no avail.

I hate it when I have to wait for my friends to turn up for our appointment. I hate it when I have to wait, without doing anything constructive. I hate it even more when I don't know what I am waiting for.

I think a huge chunk of my life is destined to be allocated to waiting. The hubz has to travel very often. And I always have to wait for him to return. Sometimes fearful that he would leave me and not return to me, just like what my dad did.

I am so afraid of being alone while waiting - because the mind plays tricks. The thoughts runs wild.

I just simply have to digress here, because my neighbour is bathing and I can see his silhouette clearly. He was cleaning/scratching his balls, then shampooing his hair. And now he seems to be lathering himself. In fact I am quite offended and have half the mind now to march over to his unit to tell him to darken his windows.

And now as I type, I am also waiting. I refuse to let my wild thoughts take control of me. I refuse to succumb to the thoughts.

Half of me believe that he's still busy with work. After all, he's on course, and what are the chances that they'll make him stay back till so late just to finish up a presentation? Definitely not in the civil sector - where it's not a dog eat dog world. Besides, all the men has family to take care off and to go back to. I don't think the instructors will work so hard themselves.

The other half of me is the one that I'm trying so hard not to succumb to. Could he be out somewhere else? Could work just be a cover-up to meet his friends? Could he be out having fun now? I know my hubz has not lied to me regarding his whereabouts before. I know I can trust him. I hate myself for having such thoughts - but yet, at this point in time, I can't seem to rid them.

But perhaps, trust was what my mum gave my dad - that he turned out to be who he is today. That my mum has been waiting for him all this while while he has been gallivanting outside?

I just hope that my waiting will not be in vain.


How much time in your life do you spend waiting? Waiting for someone, waiting for something...


But how about if marriage could be as picture perfect as the wedding photos? Yah.. dream on.

I heard someone say that love is an universal language but I beg to differ.

Yes, we all understand what love is, but is there one universal way of saying I love you? Or is there even a standard which has been predetermined?

I may love so and so, but the way I love so and so isn't the way so and so wants to be loved.

Ironic?

So wherein lies the universal language?

How nice if there is only one way of loving someone.

And I doubt if I'm capable of loving someone.
It was the first time I sat down by myself and browsed through the wedding photos. I didn't know what had gotten over me - but I've always thought that I would never look through the photos. Photos are after all, just stagnant memories of a particular moment. My mind would be a more photographic memory, isn't it?


I just did so today, and it was a good one.

Today was Meet-Parents Session. Since the start of my teaching career, I have met several kinds of parents. Some whom I greatly respect, some whom I can't seem to fathom what they are thinking of.

I remember my own Meet-Parents Session when I was in Pri Sch/Sec/JC. Teachers were always full of praise for this little helpful prefect in Pri school. Nothing but praises. But when it comes to JC, my mum was often called down to meet the Home Tutor, and more often than not, the complaint that my mum received was that I was talkative and weak in my Mother Tongue. Those were the days...

Little did I imagine that I would be in my teachers' shoes. Having to inform the parents subtly that their children are not behaving up to expectations. Having to break news to parents that their kids have done something wrong.

That aside, as their English teacher, today I received lots of questions from parents as well, as to why their children's EL marks are slipping. It really made me reflect - is my teaching really that bad that they are faring that badly? Am I such a lousy teacher?

When I first saw my class' results, I was also totally shocked, and perhaps a lil' disgusted, with myself of course. How could my class have produced such results? It MUST be because of me. I MUST be the contributing factor.

Giving myself some credit - I have definitely turned the worst class in the school, into some good souls who did our school proud during their national exams!

Why is this so? Was it due to my frequent absence from school? Was it because I am no longer as motivated? Was it the way I teach? Am I really such a lousy teacher?

So many questions - but I know that the students still need me. I know that I can't serve them for long due to my pregnancy - but my only wish is that I see through my Sec 4s to their O levels. I have so much feelings for them that I really want them to do well. They deserve definitely much more than what I am giving them now.

I really want the best for them - and after much reflection - I know that the problem lies in me. I am losing that zest in teaching - thus perhaps shortchanging the students in return. I know that the June hols will be a good time for me to catch up and reflect.

I will ! I want the best for them !
How often do we pause, stop and reflect on the lives we're leading? Or on our work? Or on the relationship?


Though I may squirm when the movements come too suddenly, I feel joy in them. It feels as if the little one is trying to communicate with me.

I am also looking forward to the development of the little one.

Just the other day, I saw her upclose. Her nose, her eye sockets, her hands, and her little buttocks. I smiled when the gynae went through the different parts of her body with me.

And finally, I think I'm ready to embark on motherhood. Though a lil' unexpected, I'm starting to feel the joys of pregnancy these few days. Initially I can't fathom how my body was changing and had difficulties getting accustomed to my new shape and size. Oh well, never in my life have I been so so so fat. Now, I am basking in the growing belly and some parts better left unmentioned.

The hubz is also being very supportive. Trying hard too to hide his disappointment that it ain't a boy whom he can play soccer with. But now, he's used to the idea that it'll be a little girl.

As for me, I can't be happier to receive news that it's a girl!

I also can't wait to give birth and end the whole process. Not that I'm not enjoying it, but I miss my active lifestyle. And I wanna get back in shape!

It's a surprise though that not many of my colleagues know that I'm pregnant. Only noticed that I've started to wear clothes that 'look like maternity wear'. Hehe. So it just means that the belly isn't very big yet... and guess what? I'm already nearly 6 months!

Alright. Countdown. 4 more months.

And we have already decided on the name for the little one...

Not to mention that the only joy that I have nowadays is to have the hubz come back from work and saying hi to the mummy and to the baby.

I'm loving my family life.
I am looking forward to the little one's movements everyday.


That is just so so so ME.

Thanks for all the encouragement. I will persevere. And things aren't as negative as what I had painted out in the previous post.

It was an angsty post. But all true!
I am amazed by what I can do when I am angry. Say nasty things, do spiteful things etc etc...
ne.
For eight consecutive days, you have to post something that made you happy that day.
Waking up to Hubby to which he roused to plant a kiss on my cheeks.
Sending Hubby to work.
Talking to mum about everything.
Meeting Bee and WL.
Seeing that WL is feeling much better.
Having Hubby messaged me from work several times to tell me he missed me.
Having a wonderful mum who cares so much about me.
Coming back to my own home despite being alone at home.
Doing this meme makes me feel very contented. I know I haven't been giving thanks to the Big Guy above, but deep down in my heart, I really thank Him for giving me this very day.
To end the year with a bang and to start the new year on an even higher note, I just thought that I'd do this meme which I came across onli